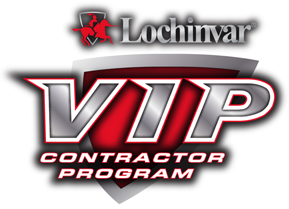 Lochinvar Corporation is a leading manufacturer of high-efficiency water heaters, boilers, pool heaters and storage tanks. Based in Lebanon, TN with facilities in Detroit, Orlando, Tampa, Phoenix, Pompano Beach and Dallas, Lochinvar stocks all products in all locations. From modest beginnings, Lochinvar has evolved into a major manufacturer and innovator of new products and technologies for heating water — for both sanitary and space heating purposes!
Airtech is proud to be a Lochinvar VIP Contractor. The Lochinvar VIP Contractor Program, now in its sixth year helps contractors maximize their success and profitability through a wide array of updated resources and exceptional product offerings. Lochinvar continues the tradition of setting industry standards for heating water efficiently. Lochinvar takes pride in its engineered products concept in pursuing the commercial/industrial, specialty water heating, hydronics and pool heater markets. This concept encourages a close working relationship with consulting engineers, architects and project designers in the interest of developing water heating or hydronic systems perfectly suited to specific project requirements.
Click Here for more information on Lochinvar products.